Domestic treatment plant servicing
Each quarter, onsite treatment plant servicing needs to be completed and checked to ensure your system is running correctly.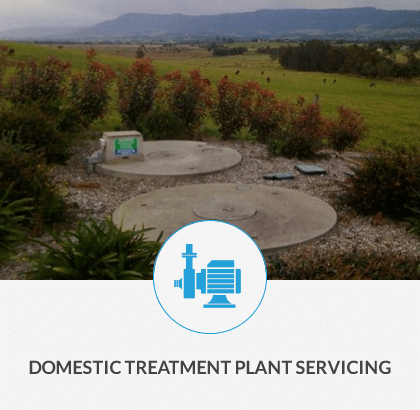 The council needs to be informed the service has been completed and be provided with the results.
Human waste if disposed of incorrectly can potentially cause infections and spread disease, plus it can smell pretty unpleasant.  We will ensure everything is working properly, if any issue is found we will discuss it with you the client and provide a detailed quote if necessary.  Regular maintenance can save you from costly and inconvenient repairs.
There are many different types and manufacturers of domestic waste water treatment plants, they are generally split into to two categories;
Septic tanks, which produce primary effluent and is dispersed under the ground through trenches. These are common in older properties, while the council does not mandate regular services for them they do need to be pumped out at regular intervals to ensure they work properly. They will be identified by a round or rectangle lids typically close to the home, sometimes found in the laundry or patio they are not connected to power. If you have just moved in or do not know the history of your septic tank, Tropical Backflow and TMV is able to attend site and do an assessment to estimate sludge level, unit health, and calculate the recommended pump out cycle determined by the load on the system and the size of the tank.
And Aerated waste water treatment plants, These are newer systems that produce secondary effluent, they have varied disposal methods including sprinklers and subsurface disposal. These units typically do need to be tested each quarter and a form 11 lodged with council. They may be distinguishable by a similar lid to a septic tank, but usually have an electrical box attached.
Useful information regarding the systems and your responsibilities can be found on your local council websites, this is an example from the Cassowary Coast Regional councils site on-site-wastewater-disposal-systems-factsheet (cassowarycoast.qld.gov.au)
If you do notice something amiss and your treatment plant servicing is not yet due, feel free to call us on 0419 349 697 or email info@tropicalbackflow.com.au.